AVAILABLE
WIDTHS

FINISHES

HEAT APPLICATION

ADHERES TO

SPECIFICATIONS

WASHING

500MM
GLOSS
PRE-HEAT 2-3 SECONDS
100% COTTON
POLYESTOR CARRIER/BACKING
DO NOT DRY CLEAN
750MM
MATT
155 DEGREES
100% POLYESTOR
80 MICRONS
TUMBLE DRY OK
1500MM
15 SECONDS
POLY/COTTON BLENDS
NO OUT GASSING REQUIRED
60 DEGREE WASHABILITY
MEDIUM PRESSURE
LYCRA/SPANDEX
NO BLEACH
PEEL HOT OR COLD
WAIT 24 HOURS BEFORE WASHING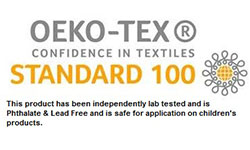 What is the best way to mask and apply Colourprint PU?
Please watch the You Tube clip that can be found under the video tab for the best way to mask & apply Colourprint PU.
I have noticed that some times I get dye migration when applying to 100% polyester, is that normal?
Unfortunately some garments that have 100% polyester can have dye migration due to the construction of the garment. If this does happen, then please reduce your heat settings to 145 degrees.
Can I use an iron to apply the film?
We always recommend using a good, solid, reliable heat press. However if you don't have access to one, then please have a look at this You Tube clip for the best way to apply using an iron.
Do I need app tape to apply the film?
Yes you do need app tape. Try our TTD Easy which has been specifically made for Colourprint PU!
What blade should I use when cutting this film?
A standard blade will be fine. However for best results, we always recommend the 5025 blade over the 1005 blade.
Do I need to out gas the product before applying the transfer to the garment?
No, unlike most of the other products on the market, Colorprint PU does not require out gassing.
Is the film available in gloss?
Yes, we do have a gloss alternative here.
Can I multi-layer the films?
Yes you can.
What are the care instructions?
Please wait 24 hours before the first wash, then you can wash up to 60 degrees. Unfortunately the product can not be dry cleaned. For best results, always wash inside out.
Can I apply Colorprint PU to nylon or stretchy fabrics?
You can apply it to stretchy fabrics but unfortunately you can't apply it to nylon. Try our Colorprint Extra for nylon garments.
If the transfer won't adhere to the garment after you've heat pressed it then please check the following;
1) Do you have the correct heat? 155 degrees is required for Colorprint PU.
2) Do you have the correct time? 15 seconds is required for Colorprint PU.
3) Do you have the correct pressure? A light to medium pressure is required for Colorprint PU.
4) Do you have a reliable heat press? Some heat presses give off an inconsistent heat which can effect the transfer adhering properly.
5) Have you checked for seams, collars or buttons getting in the way? If these things are in the way, then this effects the pressure which in turn effects the transfer adhering correctly. It could be a good idea to invest in some heat transfer pillows as this will help to avoid these things.
6) Are you applying the transfer to a nylon or coated polyester? If applying to either of these fabrics, the coating can effect the transfer adhering to the garment.
Enquiry about COLORPRINT PU MATT