AVAILABLE
WIDTHS

FINISHES

HEAT APPLICATION

ADHERES TO

SPECIFICATIONS

WASHING

750MM
GLOSS
PRE-HEAT 2-3 SECONDS
NYLON
POLYESTOR CARRIER/BACKING
DO NOT DRY CLEAN
165 DEGREES
LEATHER
120 MICRONS
TUMBLE DRY OK
15 SECONDS
DIFFICULT FABRICS
OUT GASSING REQUIRED
60 DEGREE WASHABILITY
LIGHT PRESSURE
NO BLEACH
PEEL HOT OR COLD
WAIT 24 HOURS BEFORE WASHING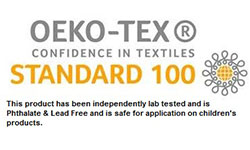 What's the point of Colorprint Extra? Why wouldn't I just use normal Colorprint PU?
Colorprint Extra has a specially formulated adhesive that sits between the nylon and the film, if you were to use Colorprint PU, the adhesive MAY get squeezed out from underneath the film which would cause the film to fall off the nylon garment.
Can I use an iron to apply the film?
Unfortunately you can't use an iron to apply the film. It's best to use a reliable heat press and follow the time, temperature and pressure settings accordingly.
What blade should I use when cutting this film?
A standard blade will be fine.
Do I need app tape to apply the film?
Yes, this product requires app tape.
Can I multi-layer the films?
Yes you can, if Colorprint Extra is the first layer you can then use any film in our range as a second layer!
What are the care instructions?
Please wait 24 hours before the first wash, then you can wash up to 30 degrees. Unfortunately the product can not be dry cleaned.
Can I apply Colorprint Extra to just normal cottons or polyestors?
It is not recommended, for best results with cottons & polyestors, use our Colorprint PU.
If the transfer won't adhere to the garment after you've heat pressed it then please check the following;
1) Do you have the correct heat? 165 degrees is required for Colorprint Extra.
2) Do you have the correct time? 15 seconds is required for Colorprint Extra.
3) Do you have the correct pressure? A light to medium pressure is required for Colorprint Extra.
4) Do you have a reliable heat press? Some heat presses give off an inconsistent heat which can effect the transfer adhering properly.
5) Have you checked for seams, collars or buttons getting in the way? If these things are in the way, then this effects the pressure which in turn effects the transfer adhering correctly.
6) Are you applying the transfer to a nylon or coated polyestor? If applying to either of these fabrics, the coating can effect the transfer adhering to the garment.
Enquiry about CONECT COLORPRINT PU EXTRA GLOSS